Las Vegas means "The Meadows" in Spanish. The city of Las Vegas was founded in 1905, and officially became a city in 1911. Gambling was formally legalized in 1931 by the Nevada legislature. Las Vegas has earned the nickname "Entertainment Capital of the World."
Join us, explore the wiki and add your own Vegas tips and tricks!

Local Info

Entertainment and Fun

Travel Tips

Gambling

Food & Drink

Other Information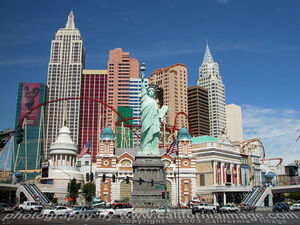 New York-New York
Hotel & Casino allows Vegas visitors to take a bite of the Big Apple and enjoy Broadway-caliber entertainment and Coney Island fun.
No detail was spared in the design of New York-New York, and a more faithful representation would be hard to imagine. The resort's facade approximates the New York skyline down to the Empire State Building, Statue of Liberty and the Brooklyn Bridge. The interior features faux trees and streams lining a Central Park-themed casino and a bar in the middle of Times Square, complete with neon and flashing lights.
New York-New York offers a plethora of fine dining choices that represent the ethnically diverse cuisine of the its namesake city. The bakery-fresh bread of Il Fornaio will have you believing you're in Little Italy, while the atmosphere of Gonzalez y Gonzalez evokes a true New York City Mexican café. Don't miss the Village Eateries, an area designed to look like the streets of New York down to the manhole covers on the floors. Here you can find traditional New York street fare such as pizza, deli sandwiches and a Coney Island institution, Nathan's hot dogs. Read More...



Blogs
LexiLexi
•
Let's all celebrate the fun times we've had in Vegas by writing our craziest Vegas stories in blog form! Do not reply to this blog post with your story--instead, make that its own blog post. You ca…
i like so much the hunger games movie and wikia, my favorite female character is PRIM I'm 13 years old and i like the district 5
See more >